Many people are interested in starting their own business in Japan, because Japan has lots of advantages for startups.
Big market size (5 trillion dollar GDP),
Safe and clean environment,
Unique culture,
Well organized infrastructure,
Strength in traditional technologies, such as automobile, robotics, machinery, chemical, 
Market is not very competitive because the number of entrepreneurs is not so many,
Rent is cheaper than other big Asian cities like Singapore or Hong Kong.
But when entrepreneurs from other countries start new business, they often face language barrier and difficulties due to the difference in legal system. Actually there is not sufficient information available in English about how to set up a company in Japan. 
What is Kabushiki-Kaisha?
There are several ways to start your business in Japan such as:
Kabushiki-Kaisha (Joint-stock company)
Branch
Self-Employment, etc
Kabushiki-Kaisha (KK)
Kabushiki-Kaisha("KK") is the most common way to run your own business. 
KK is a limited liability organization which issues stocks.  Stock holders' liability for KK is limited to the amount of investment to receive the stocks.
The amount of capital required for establishment of KK is only 1 yen.
In addition, it is possible to establish KK with only one stock holder and one director (stock holder can be the director).
So setting up a company itself in Japan is pretty simple and the risk is low unless you personally guarantee the company's obligation for third parties.
However, There are some difficulties which non-Japanese would face.
For example,
To obtain the status of residence for Business Manager, which is the most common status of residence to run business in Japan, there are additional requirements.
In addition, Opening bank account in Japan may be difficult for non-Japanese who do not have status of residence in Japan.
7 Steps to establish Kabushiki-Kaisha
In general, you have to complete the following steps to establish Kabushiki-Kaisha.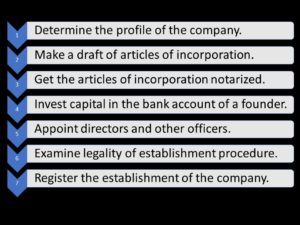 Step 1. Determine the profile of the company.
Firstly, you have to decide the profile of your company including following items:
Trade Name
Purpose of the company
The location of the head office
The amount of capital
Founders of the company
About Trade Name
To avoid using trade name identical to other companies',  you should search whether the trade name which you are planning to use is already used by someone else at Legal Affairs Bureau.
About the location of head office
It is possible to use the apartment where you live as the head office of your company. But in order to avoid any trouble, it is recommended to obtain a consent from landlord.
Note: To obtain a status of residence for Business Manager, the office need to be separated from the place where you live.
About the amount of Capital
Minimum requirement for the amount of capital is only 1 yen.
Note: to obtain a status of residence for Business Manager, the capital of your company must be at least 5 million yen.
About Founders
KK can be established by only one founder. The person who is not a resident of Japan can be a founder.
Note: if the foreign company or non-resident of Japan invest 10 % or more of the capital on the company, prior or subsequent notification to the Bank of Japan may be required.
Step 2. Make a draft of articles of incorporation.
After you decide the profile of company, you need to make articles of incorporation. Articles of incorporation have to be made in Japanese, other languages are not acceptable. Templates of articles of incorporation are published in the website of Japan National Notaries Association.
Articles of incorporation must stipulate at least following items. 
Purpose
Trade name
Location of the head office
Amount of capital to be invested at the establishment or minimum amount of such investment
Name and address of founder
Step 3. Get the article of incorporation notarized.
After you make a draft of articles of incorporation, you need to get them notarized at a notary office.
This process costs about 90,000 yen (for stamp duty 40,000 yen* and for fees of notary 50,000 yen).
*If you make articles of incorporation electronically, 40,000 yen stamp duty can be cut.
In principle, founder of Kabushiki-Kaisha need to stamp the article of incorporation with his/her personal seal registered in city office. But this may be difficult for non-Japanese who do not have status of residence in Japan. If so, founder can sign the articles of incorporation and submit a signature certificate instead.
Step 4. Deposit capital in the bank account of the founder.
After the articles of incorporation are notarized, founders need to deposit the capital into the bank account of one of the founders.
The money have to be deposited to either of the following bank accounts:
Account of Japanese Bank's branch located in Japan
Account of Japanese Bank's branch located outside Japan
Account of Non-Japanese Bank's branch located in Japan
If one of the founders has such bank account personally, such account is available for this deposit.
But if not, founder need to open abovementioned bank account. To open a bank account in Japan, non-Japanese must have the status of residence whose effective period is more than 3 months. Short-term visa is not acceptable. For this purpose, it is advisable to consider to obtain start up visa which permit non-Japanese to stay in just for preparation for setting up business.
Step 5. Appoint directors, auditor and other officer.
Founders have to appoint directors, representative director, auditors and other officers subject to the requirement of laws in case the articles of incorporation do not specify them.
Requirement for appointment of directors, representative director, auditors and other officer depends on the size of company and whether the company is open or close company. If you plan to make small size close company, you can start your business with only one director.
To learn more about Organizational Structure of Kabushiki Kaisha, please check the following article.
https://highly-skilled-japan.com/2021/11/22/1655/
Note: According to Japanese Company Act, close company means Kabushiki Kaisha whose articles of incorporation requires approval of the Kabushiki Kaisha for acquisition or transfer of every stock.
Step 6. Examine legality of establishment procedure.
After the appointment, directors need to investigate legality of establishment procedures. If they find any violation or inappropriate matter regarding the procedure, they have to notify founders of their findings.
Step 7. Register the establishment of company.
Lastly, the establishment of Kabushiki-Kaisha need to be registered. For the registration, you need to submit application form and relevant documents to Legal Affairs Bureau. To register the establishment, you need to pay registration license tax.
The amount of registration license tax is 150,000 yen when the capital is less than 21,430,000 yen (When the capital is 21,430,000 yen or larger, the registration license tax is 7% of the capital.).
Now you have established your company, but there are still many administrative procedures you need to complete to start your business. For such administrative procedures, please refer to our another article Administrative Procedures after establishment of a company.
Tips about setting up a Kabushiki-Kaisha in Japan.
1. Prepare seals (Hanko).
As described above, to establish a KK, you need to stamp with seal (Hanko in Japanese) on many documents. 
Usually, owner of company purchase three Hankos, Hanko for president, Hanko for bank use, and Hanko for personal use.
There are some rules about size and shape for each Hanko. Hanko which do not follow the rules are not acceptable for registration of company. Hanko shop can advise you which Hanko you should purchase for setting up and run your business.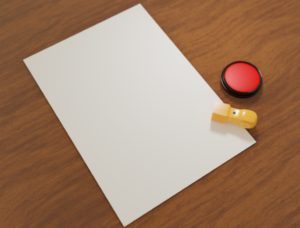 2. Get assistance from Japanese friends or advisors.
You need to submit many documents to establish Kabushiki-Kaisha and all of them must be made in Japanese. So unless you are a very fluent Japanese speaker, assistance from Japanese partner or legal advisors are essential.
3. Obtain appropriate status of residence.
In order to stay in Japan to run business, you need to have proper status of residence. If you have already obtained the status of residence such as permanent resident, long term resident, spouse of Japanese or spouse of permanent resident, you don't need to worry about this, because such status of residence allow you to run business in Japan.
But if you do not have such status of residence, the most typical status of residence to run a business in Japan is Business Manager. 
Highly Skilled Professionals might be another option if you satisfy the requirements. Please refer to the article, "What is Highly Skilled Professionals?"
BY ATSURO TSUJINO (a Lawyer in Osaka)