Opening a bank account in Japan seems like a daunting task but the actual process is not that difficult. There are several English-speaking or bilingual banks that provide international services both in-person and in their ATM. First, you must decide which bank you would like to open an account from.
Here are some English-speaking (Bilingual) Banks in Japan:
(2) Japan Post Bank
(3) Sony Bank
(4) Shinsei Bank
Your bank choice can be influenced by your residency and work location. If you are located in a bigger city, there will be more choices of banks that offer bilingual services but if you live in a rural area, the choices will be fewer. Take note that Japan Post Bank is more common in rural area than Japan Mega-Bank. So this could be an option worth considering as bank services are provided within the local post office.
What documents are necessary to open a bank account?
Visa
To open a bank account in Japan, a foreign resident must first have a valid visa. This means you can only apply for a bank account if you are allowed to stay or will be staying in Japan for more than 90 days. A tourist visa cannot be used to open an account in Japan. In addition, many banks require you to stay at least 6 months in Japan before making a bank account. But Japan Post Bank allows you to make a bank account with only 3 month stay in Japan.
Passport, Residence Card and Bill
Other documents you must also bring include your Passport for identification and your Residence Card (在留カード Zairyū Card ).  The latter confirms your residency status and your current address. To prove that you indeed live where your Residence Card states you do, you may also need to provide a bill with your address written on it. This could be in the form of your electric, water or gas bill.
Phone Number and Seal
You must also state your phone number (landline/mobile phone). Initially, you may be able to use an emergency contact's number if you do not have a phone contract yet. However, you must update it immediately once you sign up and receive your phone number. Another necessary item to bring is your inkan/hanko seal. This is a stamp commonly used in Japan to sign official documents in place of a signature. A hanko can be purchased online or a hanko shop(hankoya).
*Note that not all banks require a hanko and will accept your signature or handwritten name, so make sure you do your research on the banks beforehand.
**Sometimes, a bank might require you also submit a Residence Certificate (住民票 Jūminhyō) which you can acquire at your local city office.
There are several types of Bank Account.
The most typical type of account you can open is the General Deposit Account(普通預金 Futsū Yokin). Other account you might want to consider are Time Deposit Account (定期預金 Teiki Yokin) , Checking Account (当座預金 Tōza Yokin) or Foreign Currency Deposit Account (外貨預金 Gaika Yokin).
*At Japan Post Bank, General Deposit Account is called 通常貯金 (Tsūjou Chokin).
Easy Steps to open a bank account.
To begin the application process, you must bring all the documents above and go to the bank of your choice, preferably a branch closest to where you live. You will be asked to fill out an application form, usually in Japanese but it depends on the bank. Some bank will have a bilingual staff to help you fill out the form or translate Japanese in the application. When you fill out the form, you need to decide a four-digit personal identification number (PIN). And an initial deposit of 1,000 Japanese yen is usually required to open an account. After filling out the form and making the initial deposit,  a passbook/bank book which you can use in your bank's ATM to check or update your bank transactions.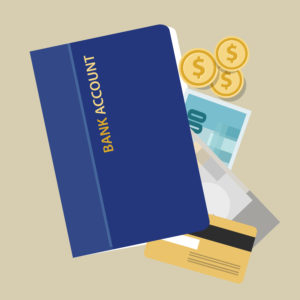 Once you finish your application, you will also receive your bank card or cash card in the mail within a week or so, which allow you to make ATM withdrawals and deposit around Japan. Remember that this card cannot be used to make purchases in stores. Although, shopping malls will usually have a designated floor with several bank ATMs available for customers and there are always convenience stores nearby just in case you are short on cash. During business hours, withdrawal from ATM of your bank usually do not charge you extra fees, however, if you use another bank's ATM or a convenience store's ATM, additional fees may be charged to you account.
Useful and important words to remember when opening a bank account
・Bank:  銀行 Ginkō
・Withdrawal: 引き出し Hikidashi
・Deposit:  預入 Azukeire
・Transfer: 振込 Furikomi
・Account Number: 口座番号 Kōza bangō
・Fee: 手数料 Tesūryō
・Passbook Update: 通帳記入 Tsūcho  Kinyū
・Balance Check: 残高照会 Zandaka Shōkai
BY ATSURO TSUJINO (a Lawyer in Osaka)
and  RYO TSUKAMOTO (a Specialist of Education and Communication in Kyoto)