In our previous article, we explained about how Japanese labor laws protect you from wrongful termination of employment and dispatch cut (派遣切り). As with termination of employment, there are many non-Japanese residents facing salary cut during the pandemic, which has great impact on their lives. Japanese labor laws apply equally to both Japanese and non-Japanese residents, so it is important to know how the laws apply to you in each situation. This article is written by Atsuro Tsujino, a lawyer working in Osaka, and a member of lawyers network for foreigners to explain how to avoid salary cut.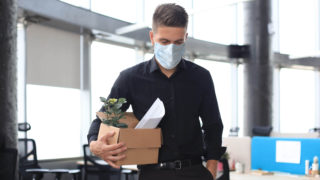 Avoid wrongful termination in Japan
Japanese Lawyer explains Japanese labor laws and how to protect yourself from illegal termination of your employment....
Avoid Salary Cut in Japan
In principle, Employers cannot change labor conditions unilaterally. In other words, companies needs to obtain a voluntary consent from their employees to reduce salary. So if you don't want to accept the reduction, just refuse it clearly. And even if you once gave a consent to the reduction, you are still able to argue the validity of reduction by insisting that the consent was not made voluntarily.
To get a valid consent, your company needs to provide sufficient information and explanation about change of the working conditions. And if they implied that they would fire you or put you in difficult situation unless you agree to the reduction, your consent will never be based on voluntary one.
Changing the Rules of Employment
Instead of obtaining consent from employees, it is possible for employers to reduce salaries of their staffs by changing the rules of employment.  However, such change is valid only in case it is reasonable in light of the following aspects:
How employee's interest are adversely affected by the change? ;
How necessary is the change;
Will the rules of employment remain reasonable after the change?; and
Has the employer properly discussed with the labor union or the representative of the employees?

Has the companies informed their employees of the new rules of employment?
Since salary is very important labor conditions, high level of necessity is needed to reduce salary. Therefore, company needs to satisfy really strict requirements to reduce salary without obtaining consent from employees.
If  you are infected with new coronavirus
When an employer orders an employee to take sick leave because he or she is infected with new coronavirus and the governor restricts him or her from working, the employer does not need to pay allowance for absence. However, if you are holder of Employees' Health Insurance you may be able to receive Invalidity Benefit (for information about Employee's Health Insurance, please refer to Japan's Social Welfare (Universal Health Insurance System)).
On the other hand, when an employer considers that an employee might be infected with new coronavirus and order him or her to stay home just to be on the safe side, the employer needs to pay allowance for absence to the employee. Employer cannot regard this as paid holidays, because employees have rights to decide when to take paid holidays.
When your company temporally close some part of business
Due to the Novel coronavirus crisis, some companies unwillingly decide to close some part of their business for a while because of less customers or for the purpose of infection prevention and request their employees to take days off.
In such case employees can get allowance for absence as long as the closure of business is attributable to the employer (article 26 of Labor Standard Act).  Although COVID-19 is not employer's fault, employers still have option to close or continue its business in most cases. So it can be said such closure is attributable to the employer and employees are entitled to a allowance for absence.
Although the company who has paid the allowance for absence to its employees to maintain their employment can get subsidies for employment adjustment(雇用調整助成金), many companies do not pay the allowance for absence to their employees for some reasons. In such case, the employees can apply for "the support fund and allowance for the leave forced to be taken under the COVID-19 outbreak (休業支援金), if they can satisfy certain requirements.
For requirements and application process, please refer to MHLW's website.
URL: https://www.mhlw.go.jp/content/11600000/000648770.pdf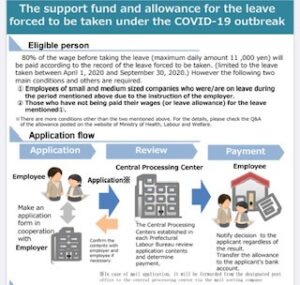 Thank you for reading this article.
Under Japanese Labor laws, employers basically need to pay salaries or allowance for absence even in this difficult situation. They cannot just reduce the salaries without obtaining consent from the employees or going through the strict process for changing the rules of employment. So if you are asked to accept reduction of salary by your employer, don't hesitate to refuse it clearly and claim for 100% salary.
https://highly-skilled-japan.com/2021/01/14/1130/