Every resident in Japan, regardless of their residency status, is subjected to follow the appropriate taxation. Tax obligations vary depending on a person's type of work, the status of residence, length of stay, living address, and the number of dependents.
Residency Status
Japanese nationalities and non-Japanese residents who have an address of residence or have lived in Japan for more than 5 years within the last 10 years are categorized as Permanent Residents. All income generated by Permanent Residents within Japan and overseas are taxable.
Note: this definition only apply to tax related matter and different from Permanent Resident Visa.
A Non-Permanent Resident is someone who has an address of residence in Japan or has lived in Japan for at least a year excluding Permanent Residents.  As for Non-Permanent Residents, income generated in Japan, generated overseas and sent to Japan, or generated overseas but paid in Japan are all taxable.
A non-resident is a foreigner who has lived in Japan for less than a year and does not have an address of residence. The income, if generated in Japan, is taxable.
Types of Taxes
Japanese taxes are separated between "national taxes" and "local taxes." The former is paid to the country while the latter is paid to the prefecture and municipalities. Below is a list of the main taxes in Japan.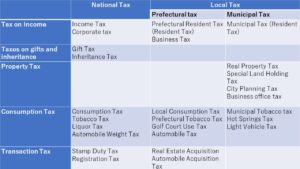 Although there are many taxes in Japan in addition to those listed above, a resident does not need to worry about all of them, only on what is applicable. For example, consumption taxes are usually included in the price when making a purchase at a convenience store, restaurant, or any shops. Residents pay it every day without even noticing. As of 2020, the current consumption tax is at 10 percent but 8 percent if you choose to take-out or pick-up food and drinks at cafes and restaurants. Automobile and real property taxes are only relevant if the resident owns a car, land or house. The main important taxes a resident needs to worry about is the "income tax" and the "resident tax."
Income Tax(所得税 Shotoku-Zei)
Income taxes are paid annually on income earned from January 1st to December 31st. Income taxes are mostly withheld by the employer in a withholding tax system, primarily seen deducted from monthly paychecks, also called a 源泉徴収票gensen-choshu-hyo. The exact percentage deducted will depend on your total income. The taxes are subtracted from salaries and wages by the employer so most employees in Japan do not have to file income tax returns.
However, if you have spent on medical expenses over 100,000 yen in a year or you are taking housing loan, or you used Hometown Tax Donation Program(ふるさと納税), it is better to file a tax return to get income deduction.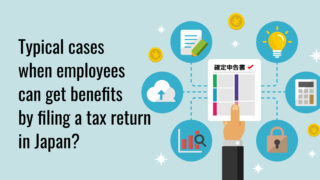 Benefits of tax return in Japan?
Explain tax deductions available in Tax Return including Medical Expense Deduction, Self-Medication Tax System, Housing Loan Deduction and Hometown Tax Payment....
On the contrary, self-employed, freelancer or person who has side income exceeding certain amount need to submit tax declaration and pay the national income taxes by March 15th.
Residence Tax(住民税 Jumin-Zei)
The residence tax has two types, the municipal tax and the prefectural tax.  The residence tax amount is charged based on an employee's previous year's income.  This tax will not be charged during the first year of employment in Japan. But even if you quit your job and lost your income, you still need to pay based on the record of the previous year. In that case, the local city tax office will send you a bill which can be paid at a bank, the local ward office or a convenience store.  Residence tax is based on your living address on 1st January and not where you work. For example, if your work is located in Tokyo City but you live in Yokohama City, you will pay your residence tax towards Yokohama City.
Information for foreigners
There are many other rules related to taxes, so if there is anything uncertain, please check the rules on the website or relevant tax office.
About National Taxes
You can search information on the website of National Tax Agency.
In addition, Regional Taxation Office in Tokyo, Nagoya, and Osaka provide telephone consultation service for foreigners in English.
Tokyo 03-3821-9070
Nagoya 052-971-2059
Osaka 06-6941-5331
from 8:30 a.m.~5:00 p.m. (Only weekdays except national holidays)
About Local Taxes
Please consult with tax offices of the prefecture or city where you live.
To sum it up, the taxes you pay as a foreign resident will depend on the type of work, income, location, and lifestyle. Also, make sure to double-check whether your country has a tax treaty with Japan to avoid dual taxation. The tax treaty is quite complex, but in most cases, a person's residency status determines which country receives the taxes.