Moving to a new country is taxing enough and looking for accommodations is even more of a headache, especially if you do not speak the local language. Finding an apartment is quite difficult. Remember that some conventional real estate companies are not foreigner-friendly. We discuss this in another article.
https://highly-skilled-japan.com/2020/09/14/456/
However, due to the increasing number of foreign students and international workers in the country, several real estate agencies that cater to foreign residents like students or workers have appeared.
Following two companies are engaged in such foreigner-friendly intermediary service.
1. Best-Estate
According to Best-Estate, they deal with the most properties available for non-Japanese residents.
They provides online support for house hunting through Zoom in 7 languages.
They also deal with many properties available for non-Japanese residents.
Their website is very customer friendly.
A variety of real estate offices are usually located near main train stations. Available listings of apartments or flats for rent are usually displayed on their windows or various signage are advertised outside. Depending on the prefecture, city, or ward, the companies available will vary. Rest assured, most real estate agencies in big cities like Osaka, Tokyo, and Kyoto will have staff who speak a foreign language like English, Chinese, or Korean, just to name a few.
About making a rental contract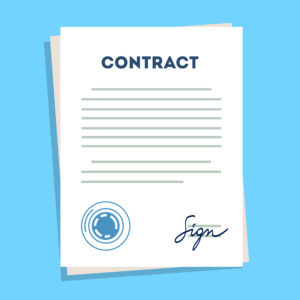 The usual rental contract lasts a minimum of two years and can be renewed for an added fee. This is sometimes an issue for foreigners who will only stay less than a year.
Whether you are staying short-term or long-term, you will encounter problems. Rest assured, even Japanese residents experience the same issues. Japan is not a cheap country to live in if you are planning to live in larger cities. As a matter of fact, the Japanese rental system will make a renter pay an significant amount of money even before you move in. Here is a breakdown of fees you must pay before you get the keys to your new apartment.
Reservation fee or 手付金(Tetsukekin)
This fee is paid to the real estate agency before you even sign the rental contract. The purpose is to reserve the apartment of your choice and make sure you are not going to change your mind and serves as an agent's guarantee that they will not give the apartment to someone else. The fee is usually converted into the first payment after the contract is signed. The fee varies but usually costs similar to a month's rent.
Deposit or 敷金(Shikikin)
The deposit covers any future damages to the apartment. The cost for the repairs in any future damage to the apartment is taken out of the deposit. The rest will be refunded upon moving out. This is usually equivalent to a month's rent.
Key money or 礼金(Reikin)
This is also called a "gratitude money" which is a non-refundable fee given to the landlord as a gift. The amount varies and is typically one to three months of rent.
Service fee or 仲介手数料(Chukai Tesuryo)
This is paid to the real estate agent as a processing fee. The amount is normally one month's rent and is non-refundable.
Renewal fee or 更新料(Koushinryou)
Certain regions or some landlord in Japan will require a renter to pay a renewal fee when a contract is renewed.
Documents You Need for making a contract
If you are a foreigner, providing identification and other documents is necessary to be eligible to rent. You must first provide a copy of your passport and residence card or 在留カード(Zairyu ka-do), which shows your visa status. Foreigners on a tourist visa can only apply for a short-term lease. Other important documents you may be asked to provide are a letter of employment or 在籍証明書(Zaiseki Shomeisho), a bank statement, payslip/tax withholding slip or 源泉徴収票(Gensen Choshuhyo), a domestic emergency contact, and a character reference. Although not immediate, having a Japanese bank account or Japan Post Bank account will be necessary for transferring money to pay your monthly rent.
Guarantor or 保証人(Hoshonin)
Generally, you will need a guarantor to be able to sign any rental agreement. This person will be liable for the rent if you cannot make the payments. Some Japanese people will ask their parents. Some companies might cover for their employees and some schools will sign for their students. The guarantor will be asked to prepare a set of documents such as proof of residence and statement of income from their local government office.
The guarantor system is a difficult one, especially if you do not yet know anyone in Japan. Even if you do, Japanese people are not very keen on signing as a guarantor for foreigners. Thankfully, guarantor agencies are working alongside real estate agencies that will act as a guarantor for a certain fee. Make sure you inquire about the guarantor companies before making a reservation.
Global Trust Network  is one such companies.
They have 14 years experience in guarantor service for foreigners. Not only guarantor service, but they also provide various services such as house hunting, mobile service, HR.
UR rental housing is another good option.
UR is short for Urban Renaissance agency. Some people prefer living in UR rental housing since it has many benefits.
UR rental housing does not require:
Key money
Agent charge
Renewal fee
Guarantor
Of course, there is no discrimination for application of UR housing. But UR does have some disadvantage.
① The facilities of some apartments are relatively old.
② Some apartments are located at inconvenient places.
③ Need to satisfy certain requirements for application.
Guest Houses
Guest Houses, also called Gaijin Houses, are share houses open to both foreigners and Japanese. They offer furnished accommodations and do not require a guarantor or key money. The housing facilities, such as kitchen, dining, living room, and bathrooms, are usually shared with other tenants.

Before dropping by your local real estate agency, make sure you make a thorough research of what you are looking. Do not be afraid to inform your real estate agent of your desired area or location, budget, and size of the apartment. Having a real estate agent help you search for your new accommodation will save you time and unnecessary hassle.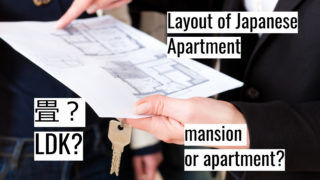 Understanding the Layouts of Japanese Apartments
When relocating to Japan, either for school or work, you have to loo...