What is an IC card?
If you're going to travel in Japan, there is one essential thing you need and that is a prepaid IC card. After you charge it with cash, this card allows for easy and quick travel across many rail lines in Japan. IC Cards are the most useful thing to have when using public transport in Japan's main cities.
IC cards in Japan are simply rechargeable cards that can be used to pay for public transportation, making payments at Konbini (convenience stores) such as 7-Eleven, Lawson and Family Mart, to buy food, drinks and other goods, as well as courier services, at restaurants, vending machines, some airport shuttles and shops, by simply touching the IC card onto a reader for literally a second.
There are 10 kinds of IC cards in Japan; Suica, Pasmo, Icoca being the most popular IC cards. These cards have made it possible to travel on almost every train in Japan, the subways and buses in the largest cities, just by using this single card.  IC Cards can be purchased at airports, ticket vending machines in train stations and train station ticket booths.
How to top up and use your IC Card
Firstly, you should research which card you need in the city you're visiting. Next you will need to look for a machine bearing the name, select the English language preference and follow the instructions and choose a blank new card. A 500-yen deposit will be deducted from the amount of cash you put onto your card. The initial purchase price is usually 2000 yen. It is important to put at least 1000-2000 yen on your IC card, this is usually enough for a day or two worth of travel, depending on how much travelling you intend to do. If you plan to purchase other things (other than public transportation) it is wise to add more yen onto your card.
When you enter the station, simply bring the card close to the contactless reader next to the entrance of the gates and you will hear a beep. When you exit at the next destination, repeat this step on your way out and the total fare will automatically be deducted from your IC Card. On the right side of the gates you will see a screen (usually next to the contactless reader) which displays the cost of your journey, as well as the remaining balance on your IC card.
If the card does not have enough funds, an alarm will sound at the gate and the contactless reader will turn red, this will automatically tell you to top up your card and block your exit. You can top up your card at the seisanki (fare adjustment machine) near most ticket gates.
The 10 major IC cards in Japan and which prefecture's you can use them in: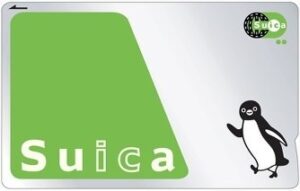 Suica is the prepaid IC card by JR East, Tokyo and Eastern Japan. It has a penguin mascot and can be used in Niigata, Sendai, Hokkaido, Western Japan and Kyushu. This card can be purchased for a short or long period of time. It cannot be used for travel between prefectures.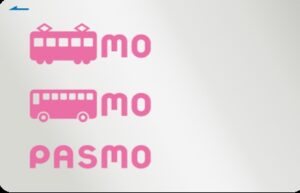 Pasmo is the prepaid IC card of Tokyo's metro, railway, subway and bus operators other than JR. Pasmo has a pink robot mascot and it can also be used on buses. It is interchangeable with the Suica card.

Icoca is the prepaid IC card for JR West/JR trains in Kansai including, Osaka and Kyoto, Okayama, Hiroshima, Chugoku and Hokuriku regions. It has a blue platypus mascot and can be used for various attractions in the Kansai region.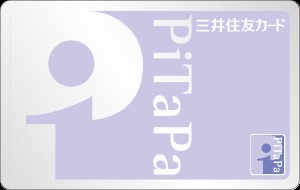 Pitapa is the IC card of the Kansai Region railway and subway companies, surrounding Osaka area. Pitapa is a post-paid system, whereby users have to register a bank account with the card and their travel fares are deducted every month. It can be used from Nagoya, Kyoto, Osaka, Nara, Kobe and Himeji and few other areas in Kansai.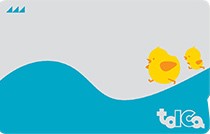 Toica IC card is issued by JR Central, the operator of the Tokaido Shinkansen bullet train and for rail lines in Tokai region surrounding Greater Nagoya and some areas in Shizuoka Prefecture.  Its mascot is a yellow chick.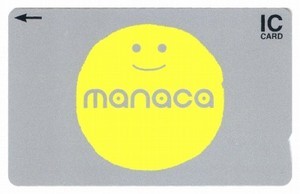 Manaca card can be used in the Nagoya area and on Nagoya trains, subways and buses other than JR and Kintetsu. Its mascot is a yellow smiley face.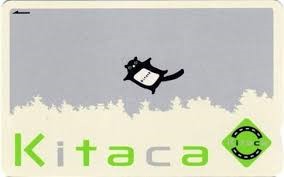 Kitaca is a prepaid IC card by JR Hokkaido for trains in Sapporo region, Japan's northernmost island. Its mascot is a flying squirrel and can be used on subways, buses and trams.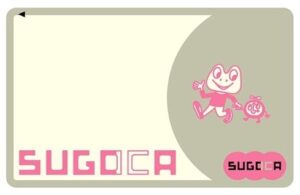 Sugoca is the IC card for JR Kyushu in Japan's southernmost main island including Fukuoka, Kumamoto, Kagoshima, Oita and Nagasaki regions. Its mascot is a frog.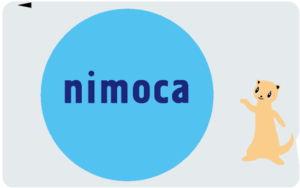 Nimoca IC card is issued by Nishitetsu in the Fukuoka prefecture in Kyushu. It can be used on railways and buses. Its mascot is a Ferret and can be used in other cities in Kyushu and in Hakodate.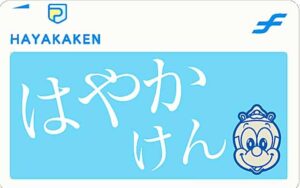 Hayakaken is the prepaid IC card of Fukuoka City for the Fukuoka Subway. Its mascot is a prairie dog.