Foreign friendships are never easy, and we must take into consideration the cultural and social divides that can make it even harder. However, making foreign friends can truly define your experiences. It's all about putting in the effort and receiving the same treatment back. This article explains how to make Japanese friend and share my experience as a British English teacher living in Kyoto.
How to make a Japanese Friend
Embrace the adventurous soul that brought you to Japan in the first place and overcome the challenges of making foreign friends. It's important to strike a balance between the local Japanese people and foreigners. It is common in Japan to be stereotyped as an outsider, regardless of how long you have been living here, and breaking this stereotype can take some time. It will all depend on whether Japanese people consider you as uchi (inside the home) or soto (the outside/other), Gaikokujin (外国人, a stranger/ quite simply "person from outside"). Even foreigners living in Japan who can speak Japanese fluently and have lived here for many years, still struggle sometimes to make friends due to the huge difference in culture, norms and values.
Japanese people are friendly towards foreigners, but it can sometimes be difficult to make a very close friendships and relationships, however it's NOT IMPOSSIBLE! Put yourself into friendly or professional social circles. Having patience, humbleness, understanding and a little Sake might help the process!
Find someone with the same personality and interests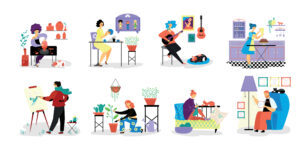 This can be a big challenge when trying to find a commonality with a Japanese person. Instead of jumping quickly into making new relationships, you need to understand the mindset of a Japanese person, as it's better to move at their pace, as opposed to your own, which is more comfortable for you, instead of coming off as forceful (which Japanese people are not too keen on).
The best way to find a friend who has similar attributes to you, is to explore the city, go to restaurants, cafes and bars. Don't be afraid to initiate conversation! You will find Japanese people who love foreign music, travel and food are dying to speak with foreigners but are unable to initiate any form of contact, due to a lack of good English-speaking skills. Japanese people are often afraid to talk to foreigners on the street, until they have reached a good level of English. Remember you are the foreigner, so it's always nice to start a conversation to show you are friendly and interested in getting to know and meet new Japanese people.
My personal experience
In June 2020, I attended the "Black Lives Matter March" held in Osaka, Kansai. Towards the end of the march, people gathered around Umeda in Osaka, to talk about their personal experiences. They created a social gathering where everyone had something in common, which in this case was "making the world a safe and better place" for our generation and future generations. During this empowering time, I had the opportunity to meet many Japanese people, from students to teachers. After the march many people created small social groups and explored around Umeda, met up for drinks at local pubs, bars or Izakaya. This was a great way to make new Japanese friends as well as foreign friends. Once the ice is broken, don't be surprised if you find yourself drinking sake till the late hours or early mornings, comparing your lives and trying to understand each other's cultures and personal views.
Social media also played a huge factor for me, in order to keep contact with my new friends, who lived in different areas of Kansai, from Shiga, Takatsuki, Osaka to Kyoto. We created a social group and made plans to meet up every weekend for nomikai (drinking party), karaoke or just a simple get together. We made this a weekly tradition and every week our friendship group would grow and grow, meeting more Japanese people (as well as foreigners) with similar interests and hobbies. Before you know it, you would have met hundreds of new people and your feeling of being an "outsider" will slowly disappear, you will have learnt more about Japanese people in such a short time frame and the process of making new friends will become much easier for you.
Japanese friends will provide you with a different aspect to fulfil your social needs. They grew up in Japan, so they can help you to figure out the local customs and social structures, to fit perfectly into society. Always be open-minded and have a little patience in order to chase every opportunity to connect with new people. You will always meet a handful of people, who will leave you feeling appreciative that somehow you all managed to end up in the same place at the same time.
There are many unique experiences to enjoy whilst being in Japan, such as cultural festivals and other social events. Seize this as an opportunity to learn more about Japanese people and watch your new friendships flourish into something amazing!