Difficulties finding a clinic or hospital with English speaking staff
In case of any unfortunate incident, you cannot always avoid an illness or injury even if you are careful about your health. You will at some point need to receive medical treatment from a clinic or hospital in Japan. If you do not speak Japanese, it can be very difficult for you to find the right establishment and receive the correct treatment.
The language barrier can be a huge issue for foreigners in Japan, especially when visiting a hospital, regardless of whether you live in a big city or not. When coming to Japan, you will soon realize that all signs for clinics and hospitals are written in Japanese. The staff working in these facilities speak only Japanese and little to no English at all. Documents issued by hospitals, prescriptions, test results and medical notes are also in Japanese. This applies to pretty much every health care establishment in Japan.
First and foremost, it is compulsory to have National Health Insurance if you are a foreigner in Japan for more than 3 months. A certain amount must be paid every month to contribute towards your health insurance and pension. You will need to register yourself at your local city hall where you will receive a Health Insurance Card. This card will need to be shown at a clinic or hospital each time you visit, if you forget this card you will have to pay the full amount of your treatment fee on the day.
Attending your local City Hall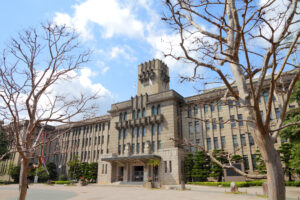 As a foreigner you may find yourself here quite often, especially when it comes to registering yourself, getting documents signed and collecting even more documents. Most city halls in major cities have a special department for English Speakers. They are there every day to help foreigners who struggle to understand the Japanese system. This is very helpful when it comes to searching for a clinic or hospital with English speaking nurses and doctors. Visiting this department is where you can ask for advice and recommendations before aimlessly walking into a hospital and hoping for the best.
English speaking staff at your local city hall will recommend suitable clinics and hospitals for you to visit in case of an emergency. This is highly recommended for foreigners who find it difficult to communicate in Japanese. Don't be afraid to ask any questions, the city hall will serve you in many different ways!
Asking your friends or neighbours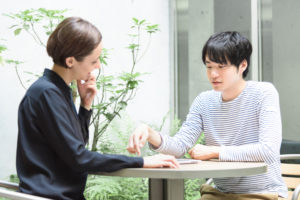 Don't be shy, ask around for local recommendations! It's important to do this especially when it comes to your health. The Japanese medical system compared to other countries does not have "GP's" or "family doctors". Rather, hospitals and clinics in Japan usually have more than one particular specialism. Therefore, patients have to choose the kind of Doctor they need to see regarding their specific problem. If you are lucky enough to live in a main city, there will usually be more than one clinic in your area with the specialism that you are searching for.   You will need to choose which clinic/hospital carefully. Because of this, Japanese people usually ask their friends or neighbours for local recommendations to nearby hospitals or clinics when they need a specific doctor. Of course, for foreigners this is a little difficult due to the language barrier, however, you have many opportunities to ask your Japanese friends, your landlord or colleagues for recommendations. Again, visiting your city hall is one of the safest options, as they tend to have a list of the appropriate clinics and hospitals for your specific needs.
Do your Research!
You will often find that the simply searching the internet for local clinics and hospitals, is a quick and efficient way to find the help that you urgently need. You will be surprised at how many foreigners do this and how many useful sites you will find. Don't worry, you're not alone!
Website of Japan National Tourism Organization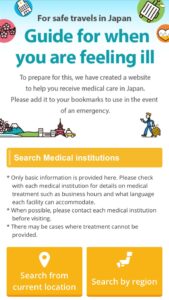 URL:https://www.jnto.go.jp/emergency/eng/mi_guide.html
In the website of Japan National Tourism Organization, You can search hospitals and clinics where you can get medical cares. It also provides guidance on how to use medical institutions in Japan and suggest the hospital department and section which will take care of you according to your main symptom.
Website of Ministry of Health, Labor and Welfare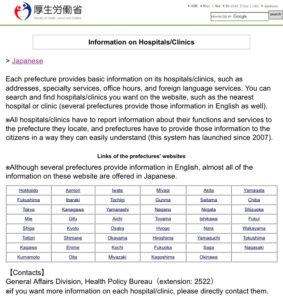 URL:https://www.mhlw.go.jp/english/policy/health-medical/medical-care/info_hpspitals.html
Each prefecture provides basic information on its hospitals/clinics, such as addresses, specialty services, office hours, and foreign language services. You can search and find hospitals/clinics you want on the website, such as the nearest hospital or clinic (several prefectures provide those information in English as well). The website of MHLW has links to all prefectures' information.
 Emergency numbers in Japan-
Ambulance: 119
Police: 110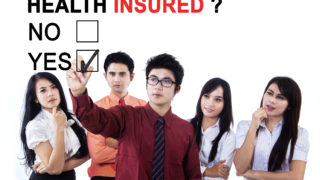 Japan's Social Welfare (Universal Health Insurance System)
The safety net by Universal Health Insurance System support your life in Japan. Difference between Employee's Health Insurance and National Health Insurance. What is Voluntary Continuation?...