To live and work in Japan, first of all, a status of residence so called Working Visa is necessary.  In total, there are 38 kinds of status of residence and you need to get the right one for your activities in Japan.

In this article, we explain the following items:
What is Status of Residence and Visa?
How to apply for Status of Residence and get Certification of Eligibility (CoE)?
How to enter Japan after receiving CoE?
What is Status of Residence?
Before jumping into the process, let me explain the terms we use. "Status of Residence" is a status under which foreign nationals can stay in Japan to engage in certain activities.
We sometimes call the status of residence "Work Visa". But strictly speaking, status of residence and visa are different. Visa is a seal put on your passport when Japanese embassies or consulates confirm the validity of your passport and considers that you wouldn't have a problem for entry to Japan.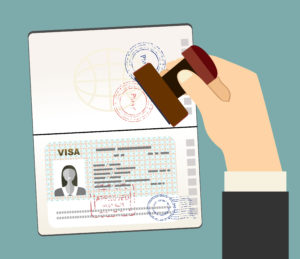 There are in total 38 kinds of Residential Statuses in Japan. These statuses can be classified into two groups. One is a group of Statuses of Residence which are granted based on the activities you'll engage in Japan. For example, if you want to work as a software engineer, most common option is 技術人文国際ビザ(Engineer, Specialist in Humanities/International Service Visa) or 高度専門職ビザ(Highly Skilled Foreign Professionals).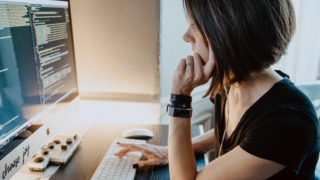 Engineers/Specialist in Humanities/International Service Visa
Japanese lawyer explains about status of residence (or working visa) for engineer, programmer and English teacher....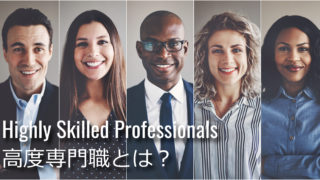 What is Highly Skilled Foreign Professionals Visa?
Japanese Lawyer explains the benefit of Highly Skilled Professionals Visa, and who can apply. ...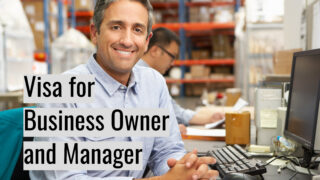 Visa for Business Owner or Manager
Japanese lawyer explains: (1) What is Business Manager Visa? and (2) How to obtain it?...
If you are a holder of a status of residence which are categorized in this group, in principle, you cannot engage in the activities other than that your status of residence permits. For example, if you have a Skilled Labor Visa (技能), You cannot engage in Legal or Accounting Service (法律・会計業務). To engage in the different activities, you need to change your residential status.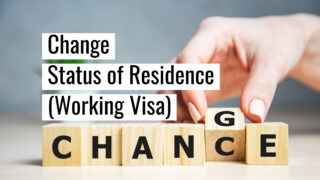 When and How to Change Status of Residence (Working Visa)
When you need to change your status of residence? In principle, you...
However, if you get Permission to Engage in Activity Other than that Permitted Under the Status of Residence (資格外活動許可), you may engage in other activities under certain conditions. For example, International Students can work part time job within 28 hours per week (within 40 hours during long holidays), if you get this permission.
Another group is residential statuses which are granted based on your status such as permanent resident, spouse or child of Japanese, spouse or child of permanent resident. If you are holder of one of these Status of Residence, your activities are not restricted. In other words, with these statuses of residence, you can work, study, or manage company, and you don't even need to work.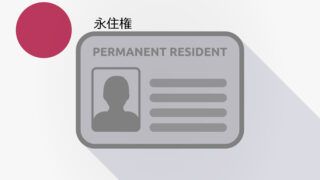 Permanent Residence in Japan
Japanese Lawyer explains Who is eligible? How to apply? What to do if you got non-approval? Things you should remember after getting PR Visa...
The effective period of the status of residence.
Except permanent residence, Immigration decides the effective period of the status of residence. In the case of 技術人文国際ビザ(Engineer, Specialist in Humanities/International Service Visa), Immigration choose the period from 5 years, 3 years, 1 year or 3 months.
No need to say, when the effective period passed, the status of residence will expire. You need to renew your status of residence before expiration. The effective period are usually short at first but become longer as you repeat renewals.
Five Steps to enter Japan and start new life
Step 1: Check the effective period of your passport
If the expiration date of your passport is coming soon, it's better to renew before moving forward to the next step.
Step 2: Obtain Certificate of Eligibility
CoE is a certificate issued by Japan's Minister of Justice when the activities of foreign nationals meet the purpose for certain Status of Residence and other conditions for landing Japan are satisfied.  CoE can be obtained by application to regional immigration bureau.
You can apply yourself but it's not easy if you are not staying in Japan.
In such case, the staff of the company hiring or school accepting you in Japan or your relatives can apply on behalf of you. Qualified lawyers or administrative scriveners can also assist the application.
The examination by immigration may take several months or longer.
Step 3: Obtain Visa (Seal on your Passport)
After you have received CoE, you need to go to Japanese embassy or consulate in your country to get Visa (Seal on your passport). It is advisable to check with Japanese embassy or consulate in your country about the procedure and what is necessary to get Visa in addition to passport and CoE.
Step 4: Entry to Japan
Since the effective period of CoE is only 3 months from the issuance, you have to land Japan before it expires.
When you land Japan, you need to show your Visa and CoE to inspector at airport. If there is no problem in the landing examination, you will be permitted to land Japan and receive landing verification seal on your passport and Residence Card.
Usually Residence card are issued at the airport. But some airports do not handle the administration. In such case, your Residence Card will be mailed to your place of residence after you have completed Notification of the Place of Residence (see step 5).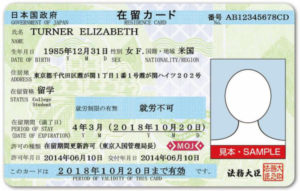 Under immigration law, you are required to carry a Residence card at all time and show it to immigration officer or police officer if requested. There is penalty for breach of these obligations.
Step 5: Notification of the place of residence
After entry to Japan, you are required to visit the municipal office of the city where you are going to live to notify the place of residence. You have to complete this notification within 14 days from the date when you find the place to live in Japan.